Tuesday, August 05, 2008
Blog in Flex
Hi Friends,
I've started a flex blog which is also created in flex. Partially completed the front end and then I'll be working on the GUI part.
Check it out
http://mohitsambhar.elementfx.com/
The blog is quite grey as still in construction mode. I'll putting the comments section up and running so that some valuable feedback should not be missed..
Mohit
Flashlex Evangelist
Labels: blog, blog in flex, flex, flex blog
Thursday, September 29, 2005
Quotable Quotes
Let your boat of life be light, packed with only what you need--a homely home and simple pleasures, one or two friends, worth the name, someone to love and someone to love you, a cat, a dog, and a pipe or two, enough to eat and enough to wear, and a little more than enough to drink; for thirst is a dangerous thing.
Jerome K. Jerome
Three Men In A BoatTor Books
Thursday, September 15, 2005
Microsoft Unveils Expression Family of Designer Tools
Catch whats new going on in Design World? After flash * release now the big fish
Microsoft
also displays what it is capable of.
Stern Expressions !!
Wednesday, September 14, 2005
Exalted Macromedia Flash 8
The best as can be... Flash 8 is an experience beyond imagination. Its more smooth, sleek and nonetheless more powerful.
Many features have been added and upgraded, but some of them are so very useful.
the improvement has been more on the graphic side rather than the scripting part but still scripters also have a big share in the pie.
I thoroughly enjoyed my first rendezvous with Flash 8. Guys, the experience is not to be missed. just
download
the trial version and get set going.
See what the
master
has to say about the new version !!
As Colin rightly said, Thanks MM.
Tuesday, September 13, 2005
Side Effects of Flash 8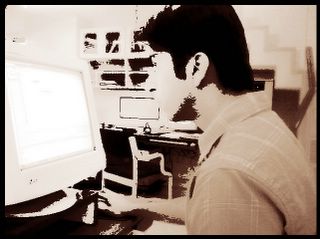 Glued to screen

Since morning I'm exploring what's new and exciting in Flash 8, irrespective of the buzzin going around.
Guys, Flash 8 is available for trial download on MM site. Hurry, before it gets choked out there.

Happy Flashing !!